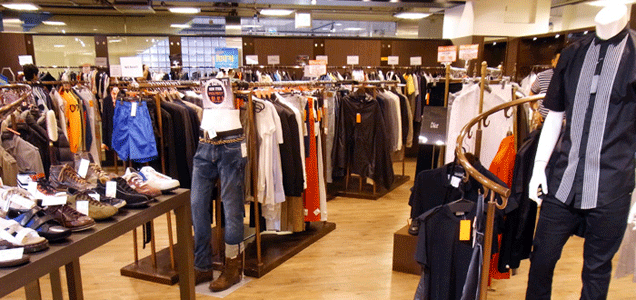 Select trend-setting second-hand items from top brands both imported and domestic.
The women's section has items from luxury brands such as CHANEL, Chloé, and Foxey. The men's section has Louis Vuitton and Hermès, followed by high-fashion mode brands such as Dolce & Gabbana, Dior Homme etc. A variety of brands from mode to business will surely satisfy your needs.

Second-hand clothing from prestige brands and other select brands

We provide reasonably priced women's second-hand clothing from various luxury brands including CHANEL, Hermès, and Foxey. Men's second-hand clothing includes imported brands such as Dior Homme and Dolce & Gabbana, "Clasico Italia" brands such as Kiton and Isaia, as well as our unique choice of in-fashion adult brands.

New clothing & business bags

Our new items include Moncler down jackets and the always popular Tumi business bags. You can compare second-hand items and new items while you shop around.
Second-hand shoes

Wide selection of popular brands. Men's second-hand shoes include Edward Green, John Lobb and Alden. Women's second-hand shoes include Christian Louboutin, Sergio Rossi and Manolo Blahnik.

Open

11:00AM - 9:00PM

Address

3-5-6, Shinjuku, Shinjuku-ku, Tokyo 160-0022

Phone

Direct line:0081-3-5363-9188
Purchasing Center:0081-3-5363-9588
Floor Information

3F Jewelry

From luxury brands that you couldn't afford before to "Clasico Italia" brands and other mode-style brands that you have been looking for…you will be surprised by their prices and condition. We are sure you will be satisfied with the quality once you see it for yourself. You might find a rare item that's not being sold in stores anymore. We look forward to serving you with the best selection in the Kanto area. Imported Brand Name Clothing staff