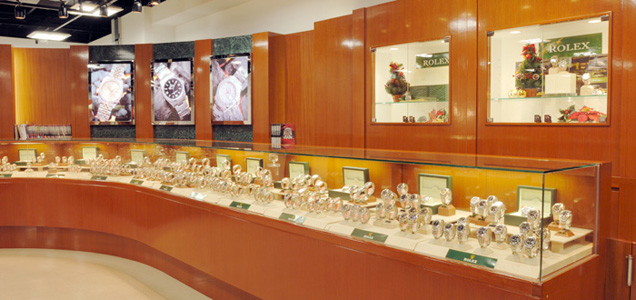 Top level in Kanto area: a regular selection of 4,000 new and second-hand watches
We have a wide variety of watches, including super luxury brands such as Patek Philippe, Audemars Piguet and Vacheron Constantinm, as well as all-time standards such as Rolex, Cartier and OMEGA. New watches are popular among customers looking for the latest model, while second-hand watches are well received among customers looking for a rare item. Both new and second-hand items are reasonably priced. All items are replaced in approximately two-month cycles, keeping the floor always full of new findings.

Rolex

Synonymous with luxury watches

Rolex is the introductory luxury watch for both men and women. In addition to its fame, its usability, water-resistance, luxuriousness and durability are also unprecedented. A wide variety of faces including those made of rare meteorite or shell are available.

Cartier

World class jeweler that every woman dreams of

Although it is famous for jewelry, it was Cartier that made the world's first wristwatch. A wide collection is available from popular standard models to dazzling diamond-embedded models.
Second-hand watches

Super rare models to unbelievably low-priced models

The content of the showcase changes every day, as 10 to 30 second-hand watches come in each day. Check it out regularly to discover your own special watch.

Open

11:00AM - 9:00PM

Address

3-5-6, Shinjuku, Shinjuku-ku, Tokyo 160-0022

Phone

Direct line:0081-3-5363-9188
Purchasing Center:0081-3-5363-9588
Floor Information

3F Jewelry

We have a diverse collection from casual watches to hard-core machine watches, and new items to second-hand items. With popular and rare items coming in, we welcome our customers with an always-fresh selection. If the item you are looking for is not in our store, we can have it delivered from another KOMEHYO location. Watches staff