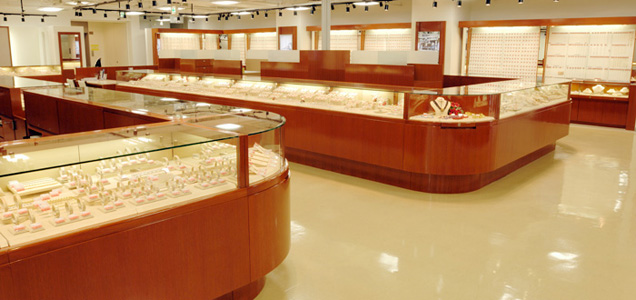 Take your time to find a favorite in this perfect environment.
This floor handles a wide range of no brand jewelry that is worth several thousand to several million yen. Second-hand items are polished to near mint-condition, and a high level of quality is guaranteed. We are constantly receiving new jewelry, enabling us to provide the latest popular designs. You will lose track of time as you peruse our regular display of 10,000 items.

Luxury jewelry

Jewelry we purchase from customers is re-certificated and polished. Through careful maintenance, the jewelry will be returned to near-mint condition, and it will regain its true shine. KOMEHYO's second-hand jewelry products are clean and in their best condition.

New jewelry

We purchase new items from jewelry makers just like regular jewelry stores do. Even though they are brand new, KOMEHYO provides them at very reasonable prices almost identical to second-hand jewelry or remodeled jewelry.
Remodeled jewelry

Remodeled jewelry is a category of items, where gems such as diamonds that have been purchased from customers are set into a frame with the latest design. KOMEHYO recommends these items for the quality of new jewelry at second-hand prices.

Open

11:00AM - 9:00PM

Address

3-5-6, Shinjuku, Shinjuku-ku, Tokyo 160-0022

Phone

Direct line:0081-3-5363-9188
Purchasing Center:0081-3-5363-9588
Floor Information

3F Jewelry